The Dune Encyclopedia
This article or section refers to elements that appear exclusively in The Dune Encyclopedia.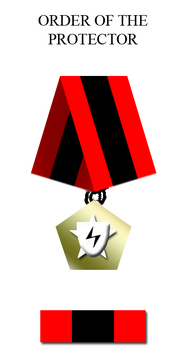 The
Order of the Protector
was awarded to a
Sardaukar
both for outstanding courage on the battlefield and for exemplary service in a command position.
This Order was also occasionally awarded to entire units, which granted every man in the unit the lifetime privilege of displaying the Order (regardless of later transfers to other units), and listed the honored unit as "Emperor's Guards" so long as any of the original recipients of the award remained alive.
SARDAUKAR TITLES, ORDERS, AND AWARDS