The Dune Encyclopedia
This article or section refers to elements that appear exclusively in The Dune Encyclopedia.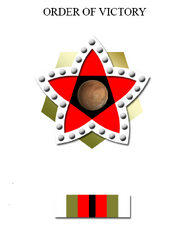 The
Order of Victory
was awarded to members of the
Sardaukar
High Command for successful conquests of entire planets. It was worn on the right breast to the left of all other awards.
A recipient was Wei Forald for the conquest of Jansine.
SARDAUKAR
SARDAUKAR TITLES, ORDERS, AND AWARDS