The Dune Encyclopedia
This article or section refers to elements that appear exclusively in The Dune Encyclopedia.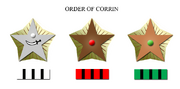 The
Order of Corrin
was a
Sardaukar
award.
It was awarded to officers at all levels for outstanding leadership, organizational ability, and perseverance leading to decisive victory in battle.
It was awarded in three classes: were Diamond (legion commanders and heads of planetary-scale operations); Ruby (regimental and battalion commanders); Emerald (company commanders)
SARDAUKAR TITLES, ORDERS, AND AWARDS
Ad blocker interference detected!
Wikia is a free-to-use site that makes money from advertising. We have a modified experience for viewers using ad blockers

Wikia is not accessible if you've made further modifications. Remove the custom ad blocker rule(s) and the page will load as expected.