Original Dune
This article or section refers to elements from Original Dune.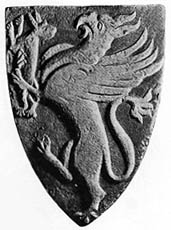 A griffin is a legendary creature with the body of a lion and the head and wings of an eagle. As the lion was considered the "King of the Beasts" and the eagle the "King of the Air", the griffin was thought to be an especially powerful and majestic creature. The griffin is generally represented with four legs, wings and a beak, with eagle-like talons in place of a lion's forelegs and equine ears jutting from its skull.
The griffin was the House symbol for House Harkonnen.
Ad blocker interference detected!
Wikia is a free-to-use site that makes money from advertising. We have a modified experience for viewers using ad blockers

Wikia is not accessible if you've made further modifications. Remove the custom ad blocker rule(s) and the page will load as expected.