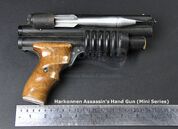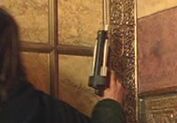 Harkonnen Assassin's Pistol used in the TV mini-series (2000). The pistol features varnished wood grips. The three horizontal tubes are made of soldered brass, powdercoated black.
Two silver coloured rocket projectiles with fins at the end and black antennas on the tips are loaded in launchers on both sides of the gun between the top horizontal magazine tube and the barrel in the middle. In the movie a third dummy projectile is loaded in front of the pump handle into the under-barrel tube. The Assassin is firing three shots with this gun, but is not launching the optional projectiles.
As one of the filming locations was located in the Czech Republic, it made sense to use a Czech gun as a prop. This prop pistol is based on a Zbrojovka Brno ZGP-94 pump action .68 caliber CO2 paintball marker produced in 1994 by the Ceska Zbrojovka Brno arms factory in Brno, Czech Republic.
It appears that the gun has three barrels, but only the center tube is a barrel, the upper horizontal tube is the magazine tube, holding 10 paintballs. The lower tube with the pump grip contains the cartridge chamber, utilizing 12 gram metal powerlets of compressed CO2 as power source.
The Czech ZGP is a clone of the US Sheridan PGP paintball marker.
The paintball marker has been modified by the prop master as follows:
The lower cartridge tube plug in front of the pump handle has been removed, enabling to install a dummy projectile (grenade).
Amazingly the bead sight on the upper horizontal magazine tube has been removed. Even more astonishing is the fact, the trigger guard (attached by two screws) including the trigger have been removed...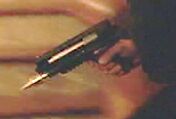 Ad blocker interference detected!
Wikia is a free-to-use site that makes money from advertising. We have a modified experience for viewers using ad blockers

Wikia is not accessible if you've made further modifications. Remove the custom ad blocker rule(s) and the page will load as expected.